President's message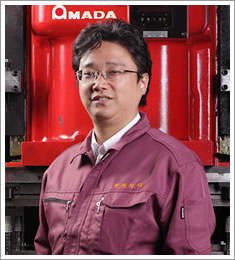 Aiming to be "a company to rely on"
This factory was the starting point for my father and it is also our point of origin.
Although municipal consolidation has meant that the Kayou town that was the start point no longer exists, we used its name in the company name in order to preserve something of it. Our desire to utilize the characteristics of the region also drives our BCP activities. We believe that the role of Kayou Giken is to work for the growth and development of the area.
In comparison with plastic, the benefit of metal is its strength. It is possible to make five fingers, incorporate human body sensors and use this for prosthetics or surgery. We believe that this kind of manufacturing that makes use of the strength of metal is one area where we can exhibit the advantages of press companies.
Our main products are currently automobile components. In the future, we hope to use press technology to also move into robot business.
It is necessary for a company to create an environment where each and every employee can show independence and feel the worth of their work. To achieve this, we feel that interaction with the customers is very important. Our production staff provide direct support when a product is delivered and we believe that being able to feel the reactions of the customers helps the employees to develop and grow. We have all employees interact with the workplaces regardless of their age and gender. We believe that this leads to the birth of the new ideas that the workplaces require and that new inspiration is cultivated by utilizing those ideas.
As a manufacturing company, we aim to provide reassurance and happiness for our customers and to be a company that customers can call on as "a company to rely on" any time they are unsure or experiencing trouble.
Minoru Hiramatsu, President and Representative Director, Kayou Giken
Management philosophy
A manufacturing company that reassures and pleases the customers and is relied on
Kayou Giken prioritizes a relationship of mutual trust with customers and strives for reliable quality and a stable supply in order to always ensure customer satisfaction.
A company where the smiling faces and strengths of each individual employee fit together and are passed on to the next generation
Kayou Giken aims to create a working environment where the employees can use communication and independence to support each other, improve their knowledge and skills and past these on to the next generation.
A serious company that works to help create happiness for the people of society
We will help people to feel happiness, both when the products we are involved in are delivered to society, and by maintaining and developing our company so that we can raise profits and pay taxes.
Company outline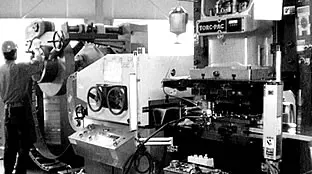 The company was founded in 1973 and has worked to cut, bend and make holes in hard metals for the more than forty years since. We have performed metal stamping and press mold fabrication on items ranging from small pieces measuring less than one centimeter up to large items measuring around 30 centimeters. We also took a great step forward in October 16th, 2006 with the acquisition of ISO 9001 certification. This acquisition of ISO certification not only greatly improved the quality level of Kayou Giken pressed parts, it also earned us great trust. Our trading partners increased in number and we also started to receive requests for just molds.
Company name
Kayou Giken Corporation
Representative
Minoru Hiramatsu, President and Representative Director
Shigeyuki Hiramatsu, Executive Director
Capital
6,200,000 yen
Employees
29 (18 male, 11 female)
*As of August 2019
Location
〒716-1242
12 Kuroyama, Kibichuo-cho, Kaga-gun, Okayama
TEL 0866-56-7109
FAX 0866-56-8335
Business
Metal press working
Press mold, jig and tool production
Trial production of sheet metal for pressing and sample production
Wire cut, machining center and flat surface grinding
Main customers
Many small and medium enterprises and listed companies
Press equipment introduction
Servo press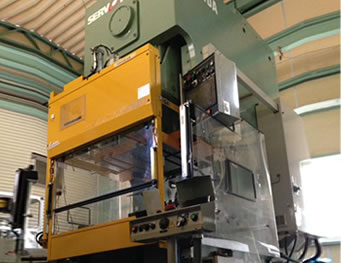 This is press machinery that is driven by servo motors so that the speed, position and pressure during processing can be set freely with numerical settings.
Progress press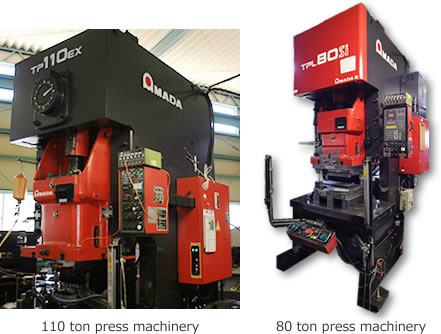 This has multiple processes performed using one face of a single mold without separation and with equal pitch arrangement. The material is fed using a feeding mechanism and is processed as it is fed. The material used is coiled material. 2 × 110 ton presses
200 ton press machinery  1 machin
110 ton press machinery  2 machin
80 ton press machinery  2 machin
60 ton press machinery  1 machin
45 ton press machinery  2 machin
40 ton press machinery  1 machin
25 ton press machinery  1 machin
Tandem press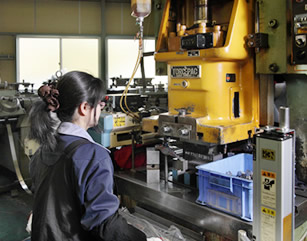 Press machinery to complete one process with one mold. The work is performed by human hand.
60 ton press machinery  1 machin
45 ton press machinery  3 machin
45 ton press machinery  3 machin
25 ton press machinery  3 machin
25 ton press machinery  3 machin
7 ton press machinery  2 machin
Trial production and mold equipment introduction
Shearing machine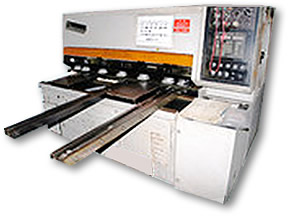 A structure that cuts with the same principle as when cutting paper with scissors. The sheet metal materials are inserted between upper and lower blades and then pressure is applied on the upper blade for the cutting.
Table-top bender  1 machin
Shearing machine  1 machin
Machining center

Machinery that uses several types of rotating blade to machine as instructed in an NC program
The structure makes it possible to install multiple different tools simultaneously, so it is possible to manufacture a large volume of parts in a short period of time and products can be supplied to customers with short delivery periods and low prices.

 

Wire cut electric discharge machine

Machinery that causes electricity to flow in a 0.2 mm brass wire placed in between an electrode and the item to be machined and uses the resulting electric discharge for melting and cutting
General purpose milling machine

Machinery where the items to be machined such as metals are fixed on a movable table and then the cutting is performed with the blades of a rotating tool attached to the end of a rotating shaft

 

Flat surface polishers/Grinders

Machinery that uses the rotational motion of grindstones (including cutting whetstones) to grind or cut the surface of the item to be machined